Some photos of our recent accomplishments ............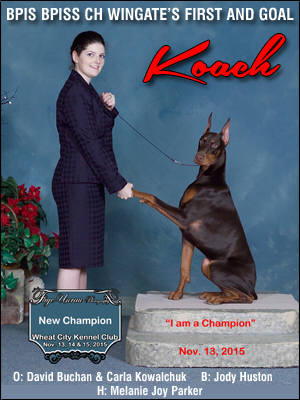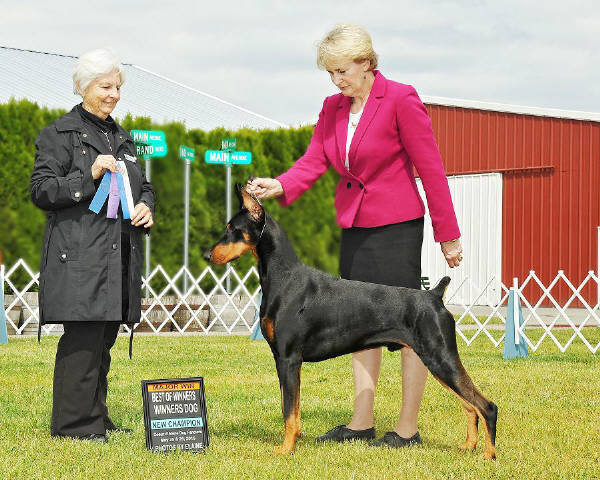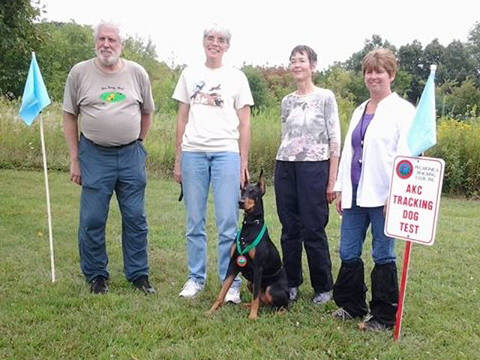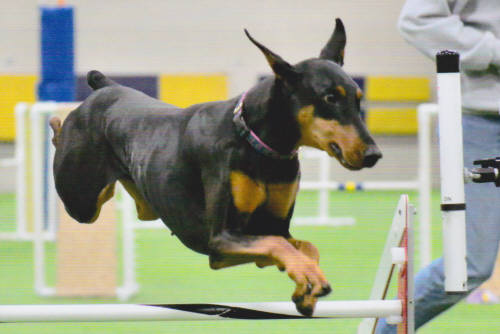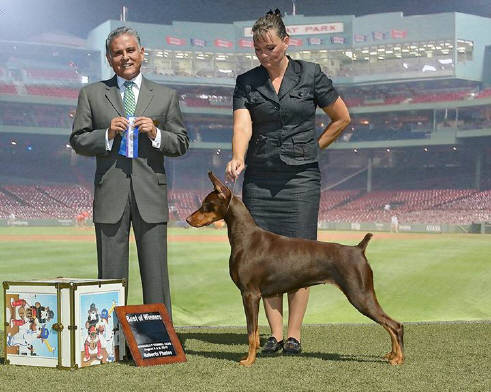 Wingate's First & Goal finishes his Canadian Championship from the puppy classes in just two weekends!!! He already earned his Rally Novice title, trained and handled by Carla!
CT Wingate 'N Sherluck's Vanadium GO UD TDX MX MXJ VCD3 AD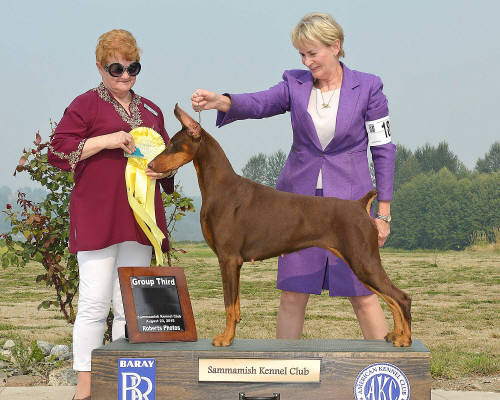 GCH Wingate's Castin' a Spell is now a DPCA 2016 Top 20 Contender and a multiple BISS and Group Winner. She is shown by Jimmy Bettis (above) and Cathy Ceely (below)!!
Wingate's Beast Mode ("Quake") is now an AKC Champion from the 9-12 Puppy class. He finished with 5 MAJOR WINS and 18 points, amassing three majors in a row at the Rose Garden Cluster! He is owned by Sue Lynch and shown by Cathy Ceely. He has an AKC Tricks title that he earned before 4 months of age.
GCH. Wingate's Like a Rock finished his championship with 4 majors at 12 months old and earned his Grand Championship in 2 months with 5 major wins including a BOB (over Top 20 specials) and a Group 2!! "Cody" will be specialed in Spring 2016. He is owned by Jo Marie and Walter Brauner and handled by Cathy Ceely.
Ch. Wingate's Because I'm Worth It ("Ember") finished her championship from the 12-18 class at just barely over a year old.
This stunning girl is owned by Lawni Rolle and shown by Teresa Ross .
Wingate's The Future of Awesome ("Quita") earns her AKC Tracking Title on first attempt at 15 months old. She is trained and handled by Jan Plagenz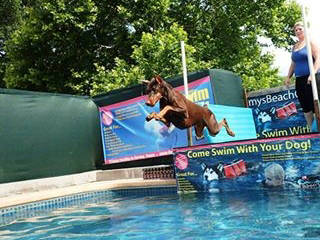 The Doberman is a working breed and Wingate Dobermans love to do performance and working activities. We select puppy buyers with this factor in mind.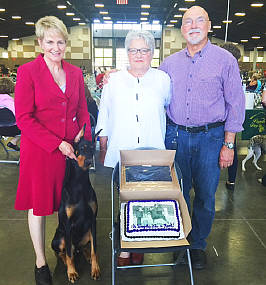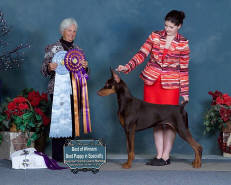 Vada earned her UDX on 1-17-16, making her the first VCD4 (VST, UDX, MX, MXJ) titled Doberman in history. Earning her Champion Tracker title was the ultimate goal and this i

s extra icing on the cake!

Vada is owned and trained by Jan Plagenz, Menomonee Falls, WI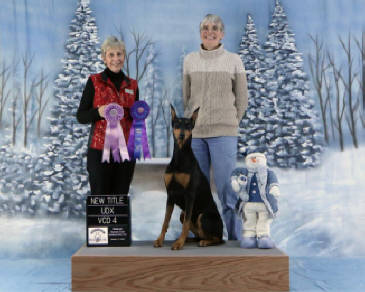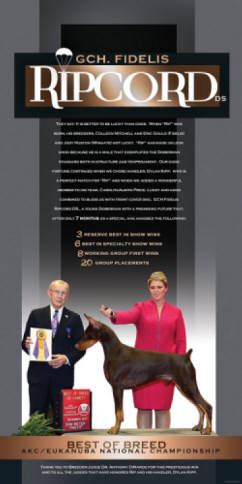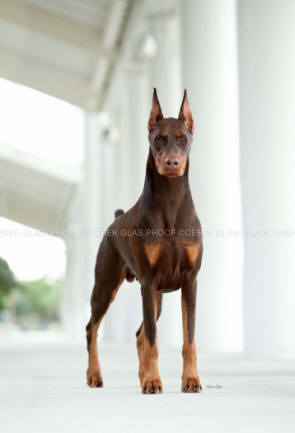 "Ripcord" is American's #1 Doberman and #5 Working Dog He is the 2016 Westminister Best of Breed winner at only two years old! He is owned by Carolyn Austin Price, Colleen Mitchell, Eric Gould, and Jody Huston and shown by Dylan Kipp. He is also an accomplished Dock Diver and has earned his DS (Dock Senior) title and an invite to Eukanuba.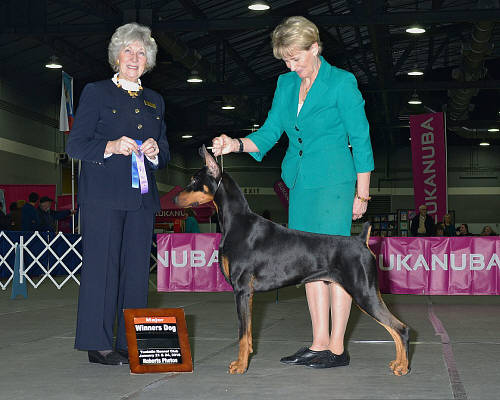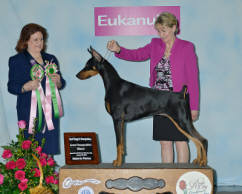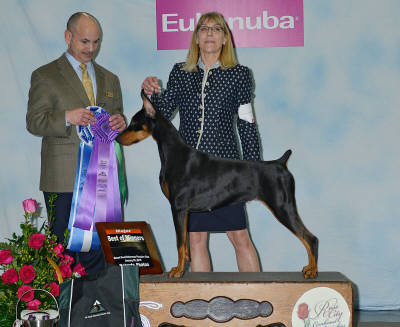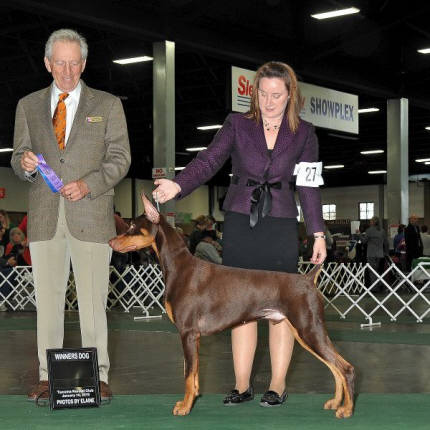 Wingate's Half-time Gala is shown above winning a specialty major from the 9-12 Puppy Class at the Mt. Hood Doberman Pinscher Club January show. She is owned and handled by Gail Vetorino.
Fidelis and Wingate's Asher is shown above winnng 2-pts. at the Puyallup shows in January from the 9-12 Puppy Class. He is owned by Cheryl Bertha, Gig Harbor WA. He went WD again at Seattle KC for 2 point...earning 6 points from the puppy class.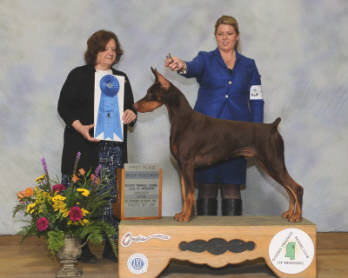 Check out Wingate's Soul Singer AX AXJ("Whitney")doing a fantastic agility run! She is trained by her owner Michelle Hibbard.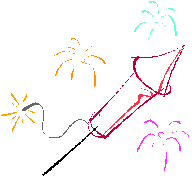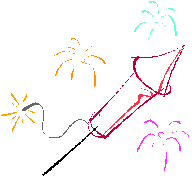 "Rip" goes Best of Breed at Westminster KC...what a thrill!!!!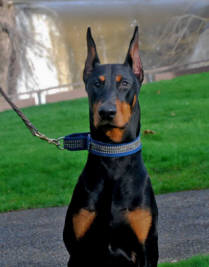 "Quake" was Grand Prize Sweepstakes Winner at the MHDPC Specialty in January under breeder/judge Cathy Spears.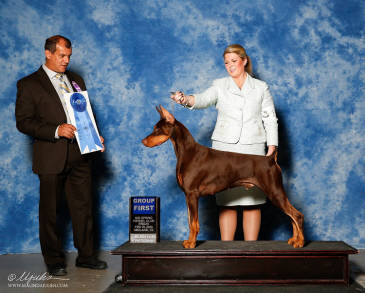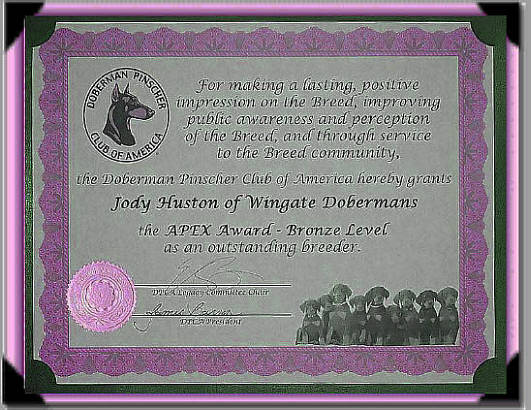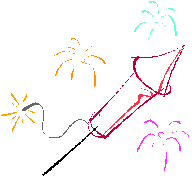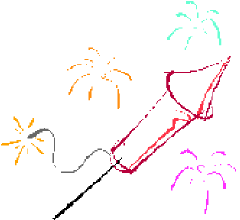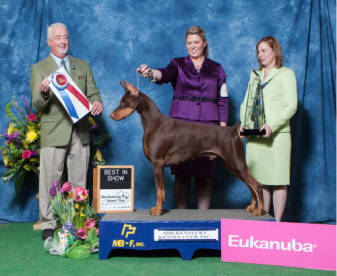 "RIP" Goes BEST IN SHOW over entry of 2500 on March 17th in Louisville, KY!!!